BASIC OFFICER COURSE (BOC) 27! 9 – 13 FEB 2020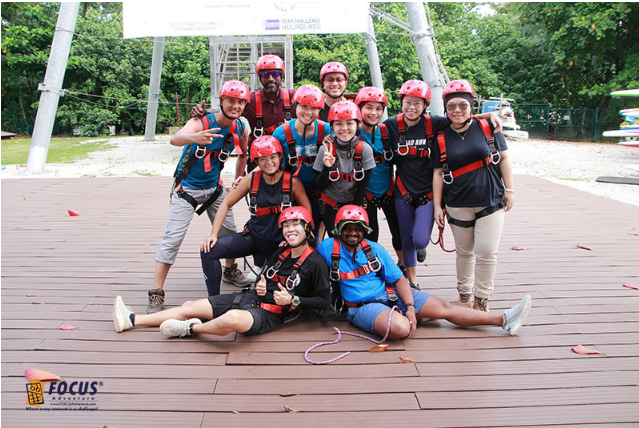 The Basic Officer Course (BOC) is a specially designed 5 day course which allows every participant to experience 5 days worth of a range of activities that FOCUS Adventure, CAMP CHALLENGE, OUTDOOR Adventures & SeaOPS (FACCOASO) provides. It is not only an initiation for anyone who would like to pursue a career with FOCUS Adventure; it also allows them the opportunity to realise if this job is the right fit for them. A major part of the course also allows the Lead FAcilitators to manage the course objectives, to observe the participants behaviours and identify those who demonstrate the greatest Leadership potential.
The BOC focuses on participants of all Officer levels; from Assistant Manager  to Director levels . Officers of the various units (Business Development, SeaOPS, CSR, Logistics, Safety, R&D etc.) hold leadership and management positions within the company. It is the start of the journey of a career that will take them to "places that they had never been before"; the beginning of an exciting and meaningful career that will Challenge and Stretch their own limits to a whole new level.
The BOC includes a session related to the vision, mission and all other methodology upon which FOCUS Adventure is based upon, plus a profiling session and The Leadership Challenge (TLC) session for participants to better understand themselves and their Leadership styles. It also gives participants an opportunity to learn and understand the debrief processes used in FOCUS Adventure, and a chance to experience the various activities, facilities and resources that FOCUS Adventure has, including our Sentosa, Sembawang and Raffles Marina sites using our own sailboats.
During the 5 days course, participants are constantly challenged at a mental, physical and emotional level. Participants must demonstrate Leadership, Teamwork and the ability to Adapt and Innovate and make sound decisions on the ground.
The BOC is a course that cannot be compared to anything else in the market and it definitely takes "Challenge" to a whole new level. The course is open to Corporates and Individuals  as well for a  fee and will certainly allow anyone who attends it, a glimpse into the exciting career of a FAcilitator or Project Manager at FOCUS Adventure!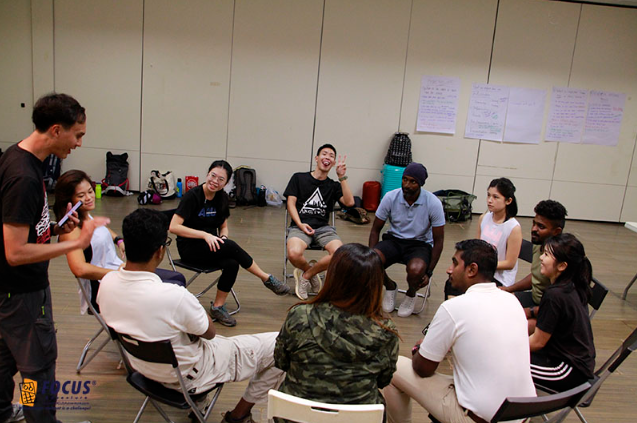 Here's what our BOC graduates have to say about their experience:
Name: Cheryl
BOC 27 was an enriching experience. Throughout the 5D4N, we were challenged both physically and mentally. Going through this process with the team enabled me to not only get to know them better, but also how my working style affects them.
An activity that stood out to me was 'End of Line'. It resonated with me as it provided me with a better understanding on how the different roles in an organisation influence the dynamics of the staff. Having the sense of sight and verbal communication taken away, I learnt the importance of trust; be it in the people or the system in order to keep the team going.
My key takeaways include collaboration, trust and taking risks. All of these culminated towards the end where all of us ascended the TEAM CHALLENGE HOURGLASS. There were many opportunities to rely on and provide support to our teammates. These enabled us to forge bonds that will last past our BOC experience and into the working environment. I am very thankful to the FAcilitators and participants who made BOC 27 a positive and memorable experience!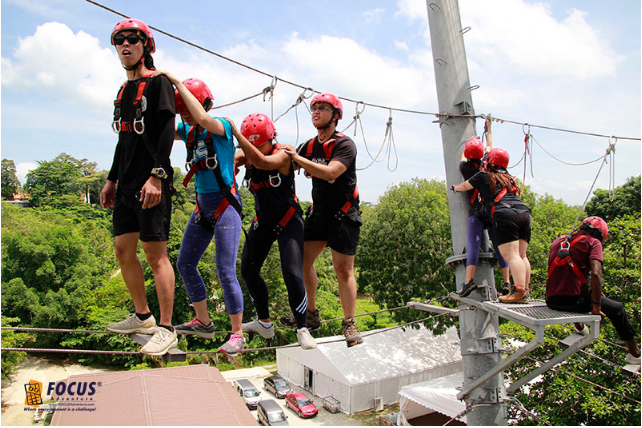 Name: Panir
BOC was an intriguing programme, planned for all new partners of FOCUS Adventure (FA), CAMP CHALLENGE (CC), Outdoor Adventures (OA) & SeaOPS (SO). Together we went through a series of activities to have an overview as an InstructorFAcilitator and Project Manager.
Some activities were challenging which allowed us to know our fellow partners more in depth. Along with physically demanding activities, these moments opened us up to be more compassionate among each other throughout the course.
BOC batch mate's endurance was tested throughout the programme, and also made some of my course mates overcome their fear. As a result, this created positive communication among us and levelled up our confidence to achieve greater heights together as an organisation.
Coming in with the background as an Outdoor Educator, this BOC was more of managing my course mates' expectations, emotions and encouraging them to come out of their comfort zone to achieve greater heights. Those 5 days gave me an insight of what my appointment entails, what is expected out of me moving forward in FOCUS Adventure and my purpose of me given this opportunity.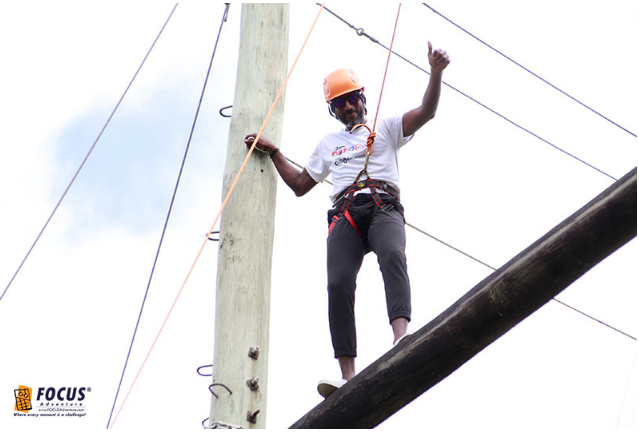 Name: Ali
BOC 27 has been quite a rollercoaster ride for me.
We had a clearer understanding on all the different abbreviations that matters in the organisation and also gain insights on the systems in the organisation.
We had many activities that made the course so fun such as the High Elements, Team Challenge Hourglass, Sailing, Low Elements and also Kayaking!
I also deeply appreciated the DISC PROFILING portion where I got to better understand myself and my working style, it opened up my blind spots as an individual too.
All in all I feel that it was a great course which helped individuals to push beyond their limits and understand themselves better.
I definitely did not regret attending and if were to be given a chance, I would want to be part of the organising team to push myself to the limit, to give the future batch of participants a good experience.
Name: Gavin
BOC was certainly a fulfilling experience for me and my fellow peers. With the various activities prepared for us, we were well equipped with the knowledge about the structure of FACCOASO, how it runs, the values and culture we have, knowledge about activities, and most importantly being pushed out of our comfort zone. The best opportunity that I really enjoyed was that all of us had the chance to conduct different energisers every day. Not only was our confidence boosted, it gave us a chance to try out something new amongst our circle.
There were moments in certain activities where our fears were revealed, and this led us to realise and understand more about each other. Speaking of understanding each other, the DISC portion was apt for us, as we got to understand how each others' working style is. The fact that we will be working with one another closely was vital that we learnt how to work together effectively and efficiently.
As much as we have learnt through the activities, the one thing I really enjoyed was the simple things like morning exercises, pre-meal appreciation, meals together and even supper together. These simple things really showed our close-knitted relationship together out of work, and that simple things like these can bring out camaraderie as well. This was evident when we wanted to rope everyone to join, or we ourselves want to be part of this circle, due to the fear of missing out.
"A circle represents that there are no loose ends". A circle can remain in its shape; a circle can grow and be even bigger. Ultimately, it takes everyone to maintain the circle, and to grow it as well.
In conclusion, my BOC experience together with my peers and the FAcilitators was enriching and heartfelt. I would like to thank everyone for this experience.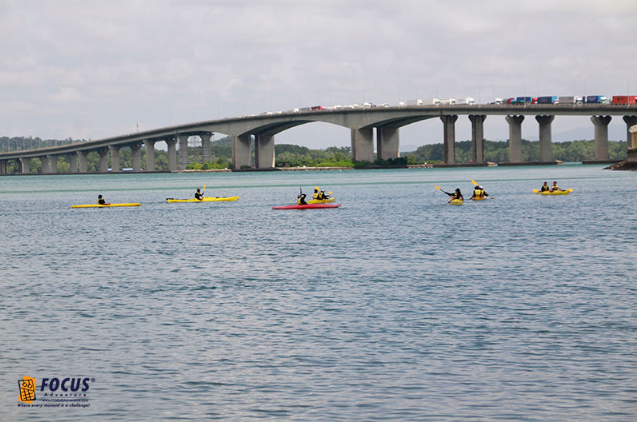 Name: Jasmin
Basic Officer Course 27 (BOC) was truly a fun and enriching experience for me. The programme was well planned and it broke me out of my comfort zone which proved to me that I am capable of achieving more than I thought was possible.
Team Challenge Hourglass was the activity that left the deepest impression on me. Standing at 24m tall, this majestic tower definitely brought out the best in every single individual in the team.
Moving forward, I have more confidence in stepping out of my comfort zone and proving to myself again and again of what I am really capable of. A big thank you once again to my amazing team members as well as all the FOCUS FAcilitators that was involved from the planning to execution of the programme.
Name: Amanda
BOC 27 was indeed an eye opening experience for me. Being able to experience the different activities allowed me to better understand the perspectives of our participants. These include safety, level of engagement etc.
The segment which was most meaningful to me was the Team Challenge Hourglass, where I was provided the opportunity to be at the front. Being in a team with members who were extremely afraid of heights, it allowed me to constantly check on their progress and safety. This is highly relatable to working in an organisation, where it is crucial for all to be well aligned with the goals of the company. It's not about going fast alone, but going the mile together. The Pampers Pole had also left me a deep impression, whereby we were required to take a leap of faith, it left me with no regrets.
Lastly, the whole course would not have been enjoyable without a sporting team. The FAcilitators and participants actively contributed and engaged us throughout the 5D4N session. It has definitely left me with sweet and impactful memories, making it a remarkable milestone through my FOCUS Adventure journey.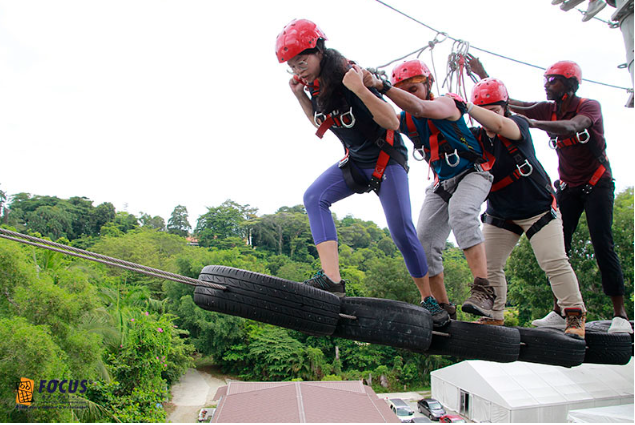 Name: Christina
It has been an enriching experience attending BOC. It gave me an opportunity to experience the various activities that FOCUS Adventure provides. I also learnt and understood the rationale of each activity and how they relate to our daily life.
I'm glad that I get to know my fellow colleagues better and building strong bonds between each other.
I would like to express my heart-felt thanks to everyone who made this BOC 27 a memorable one!
Name: Joey
BOC 27 was indeed an unforgettable experience in my life. By going through all the activities including High Elements and Team Challenge Hourglass together as a team, I have realised that nothing is impossible and we should always push ourselves out of our comfort zone. I have learnt to accept differences from everyone and at the same time explore more about myself. I became stronger and better during the course. It was a memorable and the most fun course I've ever attended.
Thank you to the team on FAcilitating the entire course while ensuring everyone's safety.
Name: Mark
I really enjoyed BOC 27 as I became more aware of myself and learnt to relate to my colleagues better in a circle of openness.
I realised how real my fear of heights was on the high elements as I needed more time to complete the activities like Balancing Beam and Pampers Pole.
My teammates were very patient with me and cheered me on even though it meant delaying their lunch time because I took almost triple the time to complete the activities above as compared to them.
But it didn't occur to me how much I needed to rely on my team until I was on the TCH. I stopped a 1/4 short of completing the tower due to dehydration and exhaustion and that was then I understood the limits of my body. I know now that I have to train my body better. Due to my fear of heights, I was reluctant to perform the Flight Line as well.
Looking back, I would like to try the TCH again in future.
The lesson I learnt was that in a department, it's not a competition, but a co-operative effort where I needed to rely on the strengths of others and also be sensitive to their weaknesses.
Heights may be a problem and a real thing to me but others around me may have different fears that are real to them that I need to be sensitive and be empathetic towards their fears too.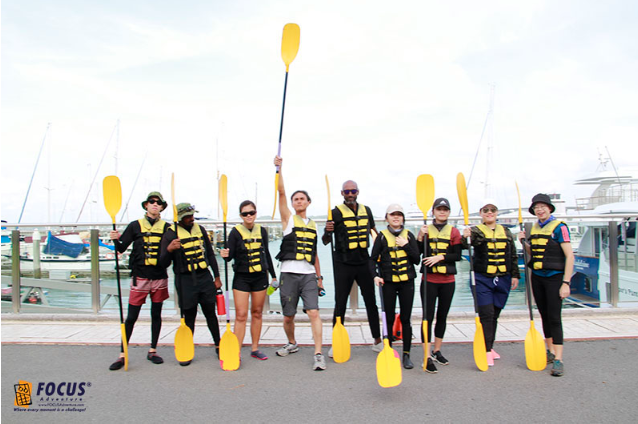 Name: Belle
Attending the BOC 27 was an unforgettable experience for me. It showed me how teamwork can boost my personal confidence which made me complete the entire programme; which I would have never thought I could. The TCH taught us to trust our team members when the challenges seemed tough. My teammates always kept a lookout for one another. We encouraged each other to push on to reach the final objective. I am proud to be part of the BOC 27 as I truly enjoyed the programme and learnt a lot from each and every one.
The sharing of personal experience during the night has also let us knit closer to each other as we understood what he/she had gone through earlier in their life. I also appreciated being able to share my experiences which helped me broke the barrier I had prior to the course with my colleagues.
Other than high elements, I really enjoyed the low element teamwork activities and especially loved the water-based activities like Kayaking and Sailing. I'm really keen on participating in SeaOPS activities in future.
Above all, the greatest highlight would be the little quality times I had with my teammates and going through activities where we got to know each other on a deeper level like in DISC profiling, Lego Serious Play and in sharing our Life Journeys.
Hearing about the life others and given the opportunity to share my own has forged within our circle a place of safety and love for each other that will uphold us through tough times as co-workers in our time in FOCUS Adventure.
My many thanks go to the FAcilitators who tirelessly braved through short nights by planning and providing for us through the 5D4N.
I look forward to going the distance in building the vision of FOCUS Adventures with my teammates after this BOC experience.
In short, I am extremely fortunate to be part of BOC 27 and am proud to say that I have completed the challenges posted to me. Last but not least, it's great to be part of the FA family!