FOCUS Consulting believes in building your capability to face the future. Our strength lies in creating acute and relevant perspectives that carry adequate importance to create new paradigms in organisations.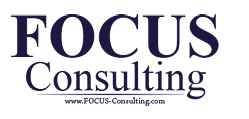 Future holds answers to all our queries, dreams, aspirations, etc. It is not an option to just wait for future to arrive. We seek to meet the future before it comes.
Opportunities are created and not chanced upon. While some believe in luck of the draw, we believe in creating the draw for ourselves.
Changes are inevitable. Even if we recognize this fact, it doesn't guarantee discerning what to change. Identifying the critical changes is imperative to success.
Unique propositions are processed opportunities. An opportunity that evolves into an idea requires effective communication. Not paying attention to how these ideas should be presented.
Systems are an integral part of our lives. We trust black boxes that we have little or no comprehension of as working principles. Every corporate environment creates its own systems that sustain it running. Only the right systems will yield desired outcomes.
For more information, please visit http://www.FOCUS-Consulting.com