HOW TO CONDUCT ONLINE TEAM-BONDING SESSIONS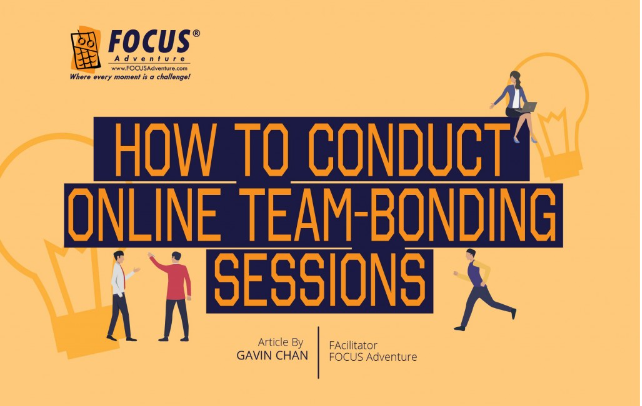 The struggles of working remotely
Early this year, most businesses and their employees have been told to stay at home due to COVID-19. Most should be getting used to the current situation and working remotely at home. However, based on Maslow's Hierarchy of Needs and humans being social creatures, we need to feel love and belongingness. For example, being part of a group and having physical interactions with our colleagues. That being said, some of us might be struggling to adapt to working remotely.
Working from home means having lesser opportunities to socialise and to get to know one another better personally. This means that the feeling of being isolated and disconnected from our colleagues will build up.  It will eventually increase the chances of possible team conflicts and reduce productivity and efficiency. What is worse is that disputes right now can only be dealt with through quiet approaches such as text and calls that may cause the entire situation to go downhill with possible miscommunications via technology platforms.
Why Online Team-bonding?
Speaking of technology platforms, let us look into why virtual or online team-bonding can be crucial to businesses right now. During this period, it is undeniable that remote working has been proven possible. Costs for office space and utility bills can be reduced; everything right now is within our fingertips all thanks to online platforms other than our phones such as well established video conferencing software. However, as mentioned earlier, due to the lack of "face-to-face" interactions with one another, building rapport to develop good working relationships can be rather challenging. Think about it – is it easier to converse in small talks face-to-face or through a text? Aren't casual texts less awkward if we had known the person "in real life"?
Physical meeting and team-bonding sessions to know each other Is impossible with the current constraints by the government. However, instead of using the video conferencing software for work and personal social purposes, why not combine work and social together with the available online platform to conduct team-bonding sessions at the comfort of our own homes?
Though some might see team-bonding activities as a lost cause, team's effectiveness has shown signs of improvement through multiple studies. Also, team-bonding can help to build trust amongst colleagues because through fun we tend to open up more and let our guards down to work with one another to enjoy ourselves in the games or activities. Besides that, by having virtual team-bonding during this tough period, we get to engage our colleagues with something fun yet meaningful other than work. This will help lessen the feelings of loneliness and isolation. Think of it as killing two birds with a stone. Moreover, this helps us build or even maintain quality working relationships virtually which will eventually influence our quality of thoughts, actions and ultimately improve results in the organisation. Hence, in this article, with our expertise, we will be sharing with you on how you can conduct your online team-bonding to engage your colleagues, with the possibility of not spending a single cent. Still, it is ultimately based on your planning.
How to conduct online team-bonding sessions?
STEP 1: Objectives
You might be thinking right now, "Me? Conducting an online team-bonding for my team? On my own? What activities should I do? That's so daunting!"
Start by determining your objectives and purposes of why you want to engage your team. Some examples of objectives include motivate them to increase productivity, work on team communications or introducing new employees to the team. The organiser must also be mindful to the duration of the session as it could affect the engagement of the members. With this in mind, the result of the activities to meet your objectives is crucial.
STEP 2: Platforms and Technology
Many video-conferencing platforms were being discovered and used because of work from home. The more common and pioneering ones would be Skype and Zoom. Why are we sharing on this step you may wonder? Using the right platform is like looking for a proper venue for your team-bonding. For example, there are so many restaurants available. Still, some might not have enough seats to hold your team or some might have a longer waiting time. This is similar to finding online platforms to host your online team-bonding for your remote team. Research on which platform would suit your team best. There are other online tools such as Microsoft Teams, Google Hangouts Meet or even Houseparty application on mobile phones. It will be useful to know the advantages and constraints of the platforms. Various frequent constraints and concerns of the users can be found through reviews online. However, it is still important to test out the platform before conducting your session.
STEP 3: Activities and Engagement
After establishing Step 1 and 2, comes what most people define as the hardest part to think of for a team-bonding session. Fret not, we will be sharing with you some tips on where you can look for activity-inspirations and how to use the current market online activities to your advantage. As mentioned before, depending on your plans, you might have the possibility of holding an online team-bonding session for your remote team without paying anything.
Being technology-savvy means, we can easily search for anything and everything within our fingertips. However, where we seek for information might affect the efficiency of your planning. Many team-building coaches and facilitators have managed to write up about activities in their article or their books. One of our recommendations would be "50 Digital Team Building Games" by John Chen. If you are a visual learner, YouTube will come in handy as there are multiple videos on fun virtual team-bonding activities along with instructions being posted up. All you need is to know the conduct of the activities, the necessary logistics that your team might need to prepare and the possible learning outcomes you want to bring across through the activities.
Another team-bonding option would be to get your remote team to sign up for a workout class together! Fitness trainers have also moved into digitalism and are conducting it via platforms such as Zoom. However, if you happen to have a colleague who happens to be the 'fitness guru' in your team, why not encourage the individual to conduct a workout session for the team virtually? The session will not only be light hearted, but it also gets everyone to do something healthier while allowing the 'fitness guru' in your team to show off his or her leadership skills.
TIPS AND ADVICES for online team-bonding
Don't get too excited while planning your online session yet!
Here are a few final tips we would like to share with you to consider:
Ensure that everyone in your team (including those abroad) are able to access to your chosen online platform
Be mindful of the activities duration and time – do align the time zone if your colleagues are not residing here locally.
Think about the final goal of your online team-bonding session. Will the session be enough to increase productivity? Or a regular session is required to maintain the quality of the working relationship in your team? This will help decide if the session is going to happen regularly or not.
Understanding the dynamics, cultures and personalities of your team members. This will help when you conduct or facilitate the session effectively. For instance, how can you include and engage introverted members virtually with others without having the possibility of extroverted members come off as being overpowering?
Lastly, if there are new members that are joining, it is essential to introduce everyone. This provides a platform for them to have a voice in the engagement session. Some ice breakers can be added before the start of the session.
"Your presence is the most precious gift you can give to another human being"
– Marshall B. Rosenberg.
In conclusion, having to work remotely in our own confined spaces can be lonely and demoralising at times, especially during this harsh period. So why not create an online session to engage your team, letting them feel each other's presence as well as encouragement! Hopefully this article managed to spark some inspiration and motivation for you to conduct an online team-bonding session as a form of engagement to build quality work relationships.
Reference:
Dyer Jr, W.G., Dyer, J.H., and Dyer W.G. (2013). 'Team Building: Proven Strategies for Improving Team Performance,' San Francisco: Jossey-Bass.
Fortune Business Insights. (2018.) Video Conferencing Market Size, Share and Industry Analysis, By Type, By Application, By Enterprise Size, And Regional Forecast (2019-2026) [online]. Available here.
Shuffler, M.L., DiazGranados, D., and Salas, E. (2011). 'There's a Science for That: Team Development Interventions in Organizations,' Current Directions in Psychological Science, Volume 20, Issue 6. (Available here.)
Klein, C., DiazGranados, D., Salas, E., et al. (2009). 'Does Team Building Work?' Small Group Research, January Issue. (Available here.)
Oertig, M. and Buergi, T. (2006). 'The Challenges of Managing Cross-Cultural Virtual Project Teams,' Team Performance Management, January 2006. (Available here.)
Scannell, M., Abrams., M., and Mulvihill, M. (2011). 'Big Book of Virtual Teambuilding Games: Quick, Effective Activities to Build Communication, Trust and Collaboration From Anywhere!' New York: McGraw-Hill.
Chen, J. (2012). '50 Digital Team-Building Games.' New York: Wiley and Sons.