READY SET ACTION CHALLENGE!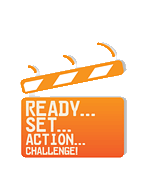 Breaking free from the corporate boundaries and limitations to let the creative juices flow whilst facing challenges; a fine line, but a catalyst to free the mind and being the star on stage.
This is what Ready Set Action Challenge! is about!
The participants are to use the mindset: Opportunity over Obstacle when adhering to a set of parameters which might seem like a limitation, but could also be an opportunity and the catapult of creativity, to achieve the final objective: produce a commercial.
The commercial will then be performed live on stage in front of the rest of the teams.
The Ready Set Action Challenge! brings out a familiar corporate team environment into one in which it encourages a fresh outlook and mindset of what's usually experienced.
In the end, who will be the star? Have best comedy? Be most creative? That's up to you to decide!