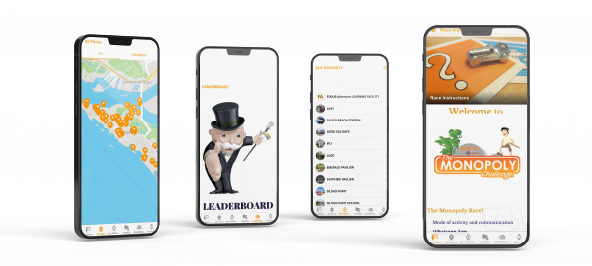 The Monopoly Challenge for 3000 pax!
FOCUS Adventure recently made waves by running the biggest Monopoly Challenge program, with almost 3000 participants joining in over one week. The Monopoly Challenge is a highly interactive and engaging team-building activity that combines the classic board game of Monopoly with physical challenges and strategy.
Participants are split into teams, each given the Monopoly App (Designed by FOCUS Adventure). The objective is for each team to collect as much property as possible by completing various challenges, ultimately becoming the wealthiest team at the end of the game.
The challenges test participants' physical abilities, mental agility, and teamwork skills. For example, participants might be required to solve a puzzle or navigate an obstacle course before acquiring a particular property. The challenges are strategically located throughout the event venue, and teams must work together to determine the most efficient way to complete them.
FOCUS Adventure, a leading team-building and leadership development company based in Singapore, has been running The Monopoly Challenge for many years. The program has been a hit with participants because it combines Monopoly's fun and excitement with the added physical activity challenge.
To make this year's event a success, FOCUS Adventure had about 50 instructors each day, working tirelessly to ensure everything ran smoothly. The instructors were responsible for setting up the challenges, guiding the teams through the game, and ensuring everyone had a fun and safe experience.
The Monopoly Challenge is a unique team-building activity that requires participants to work together to achieve a common goal. It promotes communication, collaboration, and problem-solving skills essential for building strong and effective teams.
In today's fast-paced and constantly changing business environment, it is more important than ever for companies to invest in team-building activities that help employees develop these crucial skills. The Monopoly Challenge is just one example of how companies can use creative and engaging activities to promote teamwork and leadership development.
Overall, FOCUS Adventure's recent success with The Monopoly Challenge program is a testament to the company's commitment to providing high-quality team-building experiences that are both fun and effective. With its combination of physical challenges and strategic gameplay, The Monopoly Challenge will remain popular among teams looking to build stronger relationships and improve their teamwork skills.