Office Gossip: One Bite, One Kill
                                                                                                                Office Gossip: One Bite, One Kill
                                                                                                                              By Leonard Kok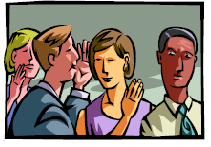 We've all experienced it. You step into the lift on your way to the 38th floor where your office is and overhear two co-workers talking about someone else in a hushed tone. You know the person they are discussing. You wince. That's setting number 1. Setting number 2: It's lunchtime and all of you are in the building cafeteria. Talk and chatter centers on your other female colleague whose marriage is reportedly in shambles. 
Gossip in the workplace is about as common as office lunches. Most of us have engaged in it at one time or another. But workplace gossip causes a great deal of harm and affects both the individuals involved, and the organization as a whole.
 While at times the office grapevine can be a useful source of information, we have also participated in some conversations in which the details are too gory to be preserved on your mobile or recording device.
What can gossip do?
| | |
| --- | --- |
| 1. | Undermines the reputation of the people involved |
| 2. | Causes lost productivity and wasted time |
| 3. | Erodes morale and trust |
| 4. | Festers anxiety among employees as rumors circulate without any clear information as to what is fact and what isn't |
| 5. | Widens the divisiveness among employees as people may "take sides". |
| 6. | Hurts feelings and reputations, sometimes causing severe damage |
| 7. | Jeopardises the "gossipers" chances for their own advancement because they are perceived as unprofessional |
| 8. | Cause good employees to leave the company due to the unhealthy work atmosphere |
According to a survey, staffing firm Randstad USA (www.randstad.com) and pollsters Harris Interactive recently asked more than 1,500 employed adults to name their biggest pet peeves about their jobs. Workplace gossip was the clear winner, cited No. 1 by 60% of respondents.
"Gossip can ruin people's lives," says Sam Chapman, CEO of Empower Public Relations (www.empowerpr.com), who started his Chicago PR firm two-and-a-half years ago after leaving another firm where, he says, vicious gossip was endemic.
It tends to snowball, because people start projecting things onto the person who's being talked about," Chapman explains. "If you say something like, 'Joe's not pulling his weight around here lately,' that rumor not only spreads, it gets worse, because everyone will start finding new 'evidence' that Joe's not pulling his weight."
Why do people gossip?
People who engage in workplace gossip may do so for several reasons.
| | |
| --- | --- |
| 1. | They may have an overwhelming need to 'fit in' |
| 2. | They have low inferiority complex and gossiping gives power |
| 3. | They perceive that the only way to get ahead is to kill the competition |
What can your company do?
| | |
| --- | --- |
| 1. | The senior management must lead the way by practising a zero-tolerance policy towards backbiting and gossip |
| 2. | Put this policy into your company's HR manual and explain this to new employees |
| 3. | Don't listen to groundless chatter |
| 4. | Seek for facts by approaching the person with tact |
| 5. | Practise an open-door policy whereby employees can approach the boss in an open way without fear or undesirable consequence(s) |
| 6. | If necessary, engage a coach to teach staff to quit sniping at each other |
| 7. | Don't do it yourself! |
A large part of our working life is derived from the satisfaction of being able to put in our level best and having our strengths leveraged for the benefit of our company. A happy working environment contributes a lot to this desired outcome. With conscious effort and commitment, your working environment can be a warm and cordial one where colleagues empower and encourage one another.
All the best!
References: