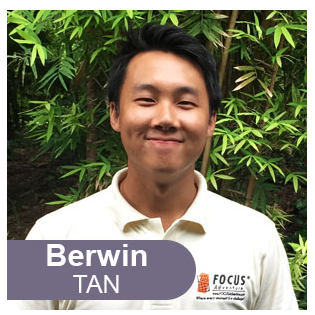 Berwin TAN
As a youth, Berwin took on various leadership roles since his high school days. This led him to many achievements such as the NYAA Bronze, Silver and Gold as well as other achievements like the Lee Kuan Yew CCA Award. Berwin is also passionate in music and performing arts. He has been in the training industry since 2010 as he has spent many years teaching music, ranging from as young as primary 3 students to adults classes. To further expand his capabilities, Berwin is currently a trained adventure learning facilitator in corporate training. Apart from corporate training, Berwin believes in giving back to society and to help those in need. He does this by creating opportunities for less privilege youths as well as design programmes relevant in helping the need. Hence, leads the Corporate Social Responsibility (CSR) component in FOCUS Adventure.
Leadership Portfolio
Corporate Social Responsibility and Sustainability
Lead B2C arm of the organisation
Lead of the Sustainability team in FOCUS Adventure. Develop and conduct new CSR related programmes, working closely with underprivileged youths and to design event/activities to better serve the needs of the beneficiaries
Ambassador for National Youth Achievement award Gold Alumni Award Holder
Education
Bachelor of Degree in Psychology
James Cook University – 2013 – 2017
Diploma in Psychology
MDIS – 2011 – 2012
NITEC in Digital Audio & Video Productions
Simei ITE College East – 2006 – 2008
Professional Certifications
Certified Virtual Facilitator under International Institute for Facilitation (INIFAC)
LEGO SERIOUS PLAY Method Certified Facilitator
CPR and AED First Aid Certified
2 Star Kayaking
Advance Diving Certification
Notable Achievements
National Youth Achievement Award Gold. October. 2008
Co-founding President, ITE College East Daiko Club. 2007 – 2008
Student councilor Chairman. 2007 – 2008.
Joo Chiat Youth Executive Community Grassroot leader. 2008 – 2012
Awarded the Lee Kuan Yew CCA Award. May 2009
Awarded Best Trainee and Best In Professional Study in Singapore Police Force. 2009
Attended the "Delivering Impactful Training to Youths" course, Social Service Institute, 2015
Inadani Taiko Drumming Course, Wadaiko TOKARA, Nagano Prefecture, Japan (2014, 2015, 2017)
What our clients say about Berwin Tan
Would like to express our thankfulness and appreciations to Berwin. The ways that he used to conduct the events have clearly transmitted the messages that we wanted for the staff and it is a joyful afternoon and nice dinner for everyone. Good job and looking forward to more teambuilding sessions together.
— Ai Ling, Gold Ridge Pte Ltd (Nex shopping mall management)
Thank you for an excellent programme last Friday. Truly fantastic. Special thanks to Berwin and Tze Hao – if they aren't already up there in your hall of fame, they're definitely rising stars at FOCUS.
— Jared Koh, MOH Holdings pte ltd
I just wanted to take some time to thank you and the facilitators – Berwin and his team – for an amazing and fun-filled experience. Kudos to Berwin for his professionalism and enthusiasm (even when his lame jokes were barely laughed at J), Kannan for entertaining us and accommodating our requests during the last charades challenges and generally to the rest of the team for consistently maintaining high spirits and ensuring the whole group was engaged and involved at all times. We had a great time bonding and being out in nature for a change – it was a new experience for some of our expats, who really appreciated seeing another side of Singapore. So thanks again and please convey our appreciation to the team!
— Denise Ong, Nestlé R&D Center Pte Ltd
Our youths are highly energised at outings and happy on birthday celebrations like this one! Special thanks to FOCUS Adventure Facilitator, Berwin and the volunteers for organising the exciting party filled with surprises.
— Jean Ong, Faith Acts
Thank you for all the effort and the planning that made the ONES event on Saturday a roaring success. We are very pleased with the smooth and safe conduct of the beach challenge as well the amazing dinner.
-ExxonMobil Engineering Asia Pacific
We are so impressed by the excellent work of Sasi and his TEAM, Magenta, Peter and Berwin that until now the church has not stopped talking about how fantastic they are. Many of us still have not get over the fun and the joy. The activities were simple but the delivery by Sasi was powerful and impactful.
As we do not have enough, we would like Sasi and his TEAM to lead the Ice Breaker(Energiser) again next year (2018), for our Church Camp from 10 to 13 Jun, and again in Johore.
-Covenant Vision Christian Church