MOE SAILING EXPEDITION FROM 14 TO 16 OCTOBER 2019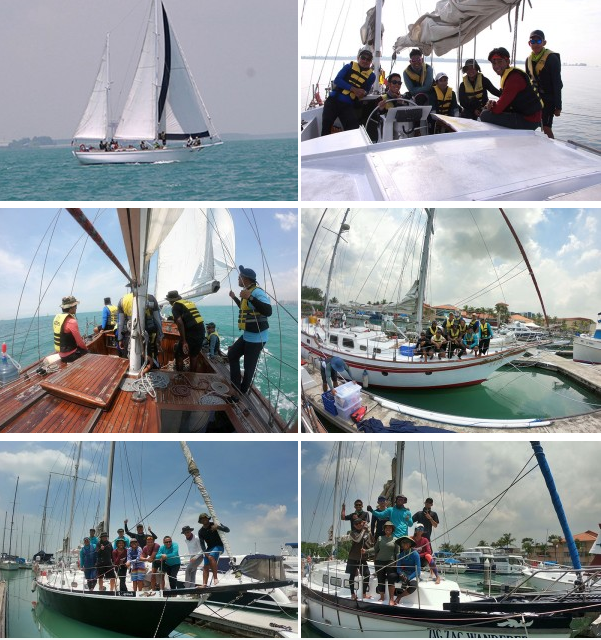 It was an intensive and an enriching 3 Days and 2 Nights Sailing Expedition that the 37 participants from MOE Changi Coast Outdoor Adventure Learning Centre (OALC) took charge of from 14- 16 October 2019. Over the course of these 3 days, the OALC participants & the SeaOPS team completed a long and fruitful journey to four islands to learn about them, namely; Pulau Sudong, Pulau Pawai, Pulau Senang & Pulau Satumu.
For Day 1, the Sailing Expedition started off with the participants arriving at Raffles Marina (RM) to get ready and to board the boats. After a recap on the safety briefing, the sailing terminologies, wind direction, furling and unfurling of the sails and understanding of the boats from the four skippers, the team set sail with the four accompanying sailboats; P Power, Maybritt, Zig Zag Wanderer and Latitude. As the team came for a 3 day Competent Crew Course (CCC) from the previous week, their skills and knowledge were more polished and enhanced after the recap.
The team was all set to set sail for their expedition after this recap. Participants were assigned roles and responsibilities and took turns to helm the boat, bring out the different sails and to sail effectively and efficiently, considering the wind directions and current. Despite the strong wind conditions and current against the boats, participants safely and skilfully sailed towards and berthed at Pulau Hantu for an overnight stay using their tents for the full outdoor experience.
On Day 2, the sailboats set sail towards Raffles Lighthouse at Pulau Satumu, passing by Pulau Pawai, Pulau Senang and Pulau Sudong. Participants got to learn about the history and culture using the AR app and their phone without getting off the sailboat. At the same time while passing by these islands, participants managed to catch a glimpse of the reefs as the water was shallow that morning, some even managed to see a sea turtle surfacing.
Finally, they sailed towards and berthed at Lazarus Island in the afternoon. Thereafter, participants made their way by foot to Sister's Island, just directly opposite Lazarus island. With the guidance of a marine biologist, they went to explore the marine conservation park, looking for interesting species to learn about. Once this was done, they stayed the night at Lazarus island.
On Day 3, participants sailed back to RM. Although some of them were feeling tired, the energy level was high and everyone helped and supported each other at every turn. No man or woman was left behind. Everyone made it back to RM safely in one piece, with a smile on their faces and their hearts filled with joy and contentment.
This was indeed an enriching and positive experience for all and the whole expedition ended with a certificate presentation. What an end to the 3 days and definitely a great sense of accomplishment for all in attendance.