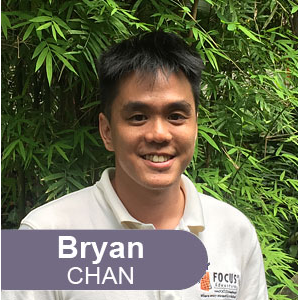 Bryan CHAN
In the training industry since 2016, Bryan is a trained adventure learning facilitator in corporate training. A strong believer in the dormant potential in every team, Bryan strives for that breakthrough moment where the team reaches a level of Synergy and Optimal Performance. Apart from Corporate training, his passion in psychology and the social services lead him to run the Adventure Therapy department that works with at-risk populations, helping them achieve better outcomes in society and life. In his leisurely time, Bryan enjoys swimming, pilates, and travelling.
Leadership Portfolio
HRD Lead
Adventure Therapy Lead
Education
Bachelor of Social Sciences with Honours (Psychology, NUS)
Professional Certifications
DISC Behavioral Consultant
Facilitation Experiences
2 Day 2 Night MOT Induction Programme
2 Day 1 Night UOB Management Trainee Programme
MCCY Change Management programme for leadership team
WSG Roleplay Challenge Programme
What our clients say about Bryan Chan!
"Indeed, the DMO team have enjoyed the session tremendously.
In addition, here is a big THANK YOU to your wonderful team, Bryan and team for making the experience memorable and fruitful.
Have a great weekend ahead! 😊
Thank you."
~Jolie Wong, Manager, Distribution Middle Office
Income
"Bryan is humorous and able to get the crowd attention"
-Yong Quan Business Analyst Income
"The team had a great time and shoutout to Bryan for making it a smooth and comfortable session."
~ Natalie Guo, Veeva Systems