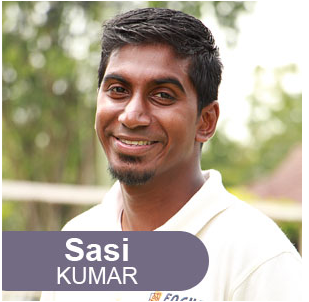 Sasi KUMAR started in the Adventure Learning industry since 2009. He holds a Diploma in Outdoor & Adventure Learning and has gained much exposure from both youth development and corporate organisations. His passion for Adventure Learning grew during his internship with CAMP CHALLENGE – FOCUS Adventure's sister company; which allows him to apply theories and concepts he learned from the school and relate them in the outdoor and Adventure Learning setting.
His desire for continuous learning and passion in this industry propels him to pursue a Business degree. Through this he hopes to expand his portfolio to better understand and relate with participants in the corporate world.
He has worked with various organisations ranging from schools, private and public institutes, MNCs and SMEs, some of which includes MINDEF, MOM, Hewlett Packard, NUS, Kellogg, Alcon Ciba Vision, Borough and ANZ.
His biggest motivation in this industry is the participants. Seeing participants enjoying themselves, picking up new knowledge and applying it back to the work place gives Sasi a great sense of satisfaction even if the time spent with each participant is short.
Leadership Portfolio
Chief Operating Officer – FOCUS Adventure Pte Ltd (June 2017 – Current)
Interim Chief Operating Officer, Outdoor Adventures Pte Ltd (Dec 2017 – Current)
Chief Operating Officer, Sea OPS Ltd (Sep 2017 – Feb 2018)
Chief Operating Officer, CAMP CHALLENGE Pte Ltd (Jan 2016 – Dec 2017)
Education
Degree in Business Administration, BA (Hons)
Advanced Diploma in Management
Diploma in Outdoor and Adventure Learning
Professional Certifications
Certified Virtual Facilitator under International Institute for Facilitation (INIFAC)
TMS Practitioner
SCRUM Master
Learning Experience Platform Designer
Lego Serious Play Practitioner 
MBTI Personality Practitioner 
DISC Behavioral Consultant
Lego Robotics Practitioner
Advanced Open Water Diver
Sailing Level 2
Competent Crew (Sailing)
PPCDL License (Boat license)
First Aid Course (including CPR, AED)
Facilitation Experiences
3 Day 2 Nights MINDEF Programme
3 Day 2 Nights OCBC Management Trainee overseas leadership programme
MinLaw Teambuilding Programme for New Hires
MOM Values in Action Programme
FOCUS Group discussions for public organisations
Personality profiling for volunteers
LEGO Serious Play for various non-profit organisations
Sustainability workshop for OBS symposium to share how to run programmes in nature without disrupting the nature ecosystems.
Notable Achievements
Designed and executed expedition Teambuilding Programmes for organisations such as OCBC and NTU
Designed and delivered 3D2N program for about 10 runs for MINDEF
Designed and launched The Dragon Boat Challenge! and many other Sea OPS in FOCUS Adventure, Outdoor Adventures and CAMP CHALLENGE
Part of the team that founded SeaOPS Ltd (organisation to give more opportunity for the less fortunate in terms of water based activities and opening up potential interest in the marine industry and career)
Convinced and sold CSR related programs to client rather than a normal teambuilding program
Convinced more Facilitators and Trainers in the industry to practice sustainable programming especially in the outdoor setting to learn from the environment and not out of the environment, during OBS symposium
One of the Panel speakers in India for topic on Franchise sustainability
Appeared in Straits Times and gave an interview over the radio in regards to interesting jobs and how youths shouldn't allow academic constraints to depict their career paths.
Worked with Changi Sailing Club to be part of a 30 Sailboat team to give 300 less fortunate youths the opportunity to sail on a yacht
Worked with Prudential and Loola Adventures to create a sewage water treatment for 20 Families in Indonesia for them to be self sustaining in growing their own vegetables
Part of the OLAE Association (Outdoor Learning and Adventure Education Association) to discuss about sustainable businesses in the OLAE industry.
What our clients say about Sasi KUMAR
It was a very engaging experience led by Sasi and TEAM. Would definitely consider doing Glamping with the TEAM the next time! Special thanks to Sasi and TEAM for going all out with us despite the weather! Appreciate the little touches the TEAM has brought to us. They really set the bar high for our first offsite exposure as a TEAM!
-Neo Hui En, HR, Citibank N.A. Singapore
Thanks for the memorable teambuilding programme with FOCUS! My bosses love the TEAM CHALLENGE HOURGLASS and activities played in the afternoon, so did many of my staff. I wanted to drop you guys a thank you note to show my appreciation for helping to make put a smile on everyone's faces.
I'm already planning to extend this to the rest of the teams, and myself. I'm still upset I had to sit out of the hourglass! Hope to be able to connect and see you in the sun soon!
Please help to send my appreciation to Sasi and the rest of the Facilitators who helped tirelessly on the day! 🙂
-Janice Lim, HR Manager, Turner Broadcasting System, Inc.
Energetic Facilitator especially Sasi and Peter liven up the atmosphere. It took into consideration the general well-being of all participants before deciding on which programme to take part.
-Dinie, Corrupt Practices Investigation Bureau Singapore
The Facilitator(Sasi) is good and engaging. He has the right amount of character and personality and joke to make the programme lively. Thank you.
-Johan, Senior Executive, Singapore Institute of Management Pte Ltd
As usual, the TEAM from FOCUS(Sauyan and Sasi) is flexible and responsive to our needs. The teambuilding programme was well-coordinated on the day of programme. The professionalism and effort put in by the TEAM made us(the organisers) feel confident about whole programme. Thank you and look forward to more working opportunities in future.
-Angela Phua, Senior Executive, Singapore Institute of Management Pte Ltd
The Facilitator, Sasi doing a good job with well explanation of rules and regulations on the last outdoor activities – Good job and keep it up!
-Guan Chee Tatt, Customer Support Engineer, Kulicke & Soffa Pte Ltd
Sasi was an awesome Facilitator. Everyone in the team loved him. Those who went through multiple FOCUS's teambuilding programme have shared that he was the best Facilitator that they have had thus far.
-Wei Wen, Singapore Economic Development Board
Hi, I would like to compliment the Lead Facilitator, Sasi on the day, he was most motivational and surely put me at ease when we climbed up the obstacles!
-Genie, Assistant Vice President, Taurus Wealth Advisors Pte Ltd
Special commendation to Sasi and the Team Challenge Hourglass TEAM during the programme. They were all professional and excellent Facilitators!
-Vijay Krishnan Chandran, Senior Assistant Manager, NTU
This is the third time that we have engaged FOCUS Adventure for our annual Management Staff Retreat. Lead Facilitator – Sasi and his TEAM were awesome and they are able to relate the programme learnt from the activities to our workplace. We had so much fun and laughter throughout the 2 days programme. A big thank you to Sasi and his TEAM who helped to coordinate this programme.
-Wee Bee Lian, Assistant Manager, NTU
Facilitators especially Sasi indeed made the programme livelier and he responded very well to all our participations which made it a fun programme.
Overall, the programme was well received and the participants enjoyed themselves during the programme on 21 Oct 2016. Please express our gratitude to Sasi and the TEAM for making it happen.
-Louis Tan, Human Resources Manager, Wildlife Reserves Singapore
Sasi was great! He was approachable and insightful linking our experiences to theories in change, leadership, teambuilding and then also connecting them to the workplace. Great job!
-Lan Nguyen, The Hongkong and Shanghai Banking Corporation
Thank you to our Facilitator – Mr. Sasi Kumar for making our teambuilding a fun and memorable programme. Wish the time given was longer as 1.5hrs. Times are just too short to cover the whole of three beaches. Overall, thumbs up to FOCUS Adventure and teams. Thank you.
-Yvonne Ee, Executive Secretary, Kulicke & Soffa Pte Ltd
A very BIG THANK YOU ESPECIALLY to Sasi for making sure that I am all right after hurting my waist while participating in the activity. He took the trouble to heat up the heat pad, finding the cool oil treatment to make sure that the pain was relief.
-Corrine Seah, Operations/Franchisee Manager, SingTel
Facilitator, Sasi well present the programme in an interesting and fun way. Enjoyed well in this programme.
-Quek Xin Yin, Accounts Executive, Marina Mandarin Singapore
The Facilitator is very good. Sasi make me enjoy the activity.
-Kamal Reza, Senior Security, Marina Mandarin Singapore
As Henry Ford said: Coming together is a beginning. Keeping together is Progress. Working together is Success. That says it all! I had a great time. Thanks to Sasi.
-Savio Fernandes, Administrator, Atradius Credit Insurance
Sasi exudes high level of positive energy with a pleasant disposition that made the programme a very memorable one.
-Priscilla Ng, Project Manager, Kuehne + Nagel Pte Ltd
This is the second year OCBC has engaged FOCUS Adventure for the Post Graduate Management Associate Leadership Offsite. I am pleased to hear from my staff about the good work done by your team.
Based on feedback, the professionalism of your Facilitator, Sasi was reflected strongly during the 3 days programme in the handling of programme execution, debrief and the overall safety of our MAs. The Facilitators were able to draw out the participants to share and learn. Project Manager did a wonderful job in ensuring the pre-trip logistics were well taken care of as well. I understand that there was a small crisis over accommodation which happened a day before the programme. Despite that, the programme went on smoothly and the participants experienced a very good learning journey.
All in all, my team and I are pleased with the service excellence that FOCUS Adventure has exemplified and definitely look forward to future collaborations in the coming new year.
-Cassandra Cheng, Head, OCBC
We are still bowled over the programme. Special thanks to Sasi and team for the awesome job done. It wasn't my first FOCUS programme; and I know it won't be my last either 🙂 Thank you for being so accommodative to our requests and thank you for putting all this together smoothly.
-Ahneesah, Nanyang Technological University
Firstly, Sasi and team did an excellent job in raising the energy of the team. There were also very sharp in understanding the teams dynamics and able to apply facility accordingly. And overall FOCUS Adventure did a fantastic job. They will definitely be the teambuilding company of my choice!
-Linda Vincent, Senior HR Manager, Elizabeth Arden (Singapore) Pte Ltd
The entire programme was fun-filled with laughter and everyone enjoyed it very well. We would like to register our special thanks to Sasi who put the team together. Well done FOCUS Adventure 🙂
-Mariammah, NTUC ARU
Sasi is an excellent Facilitator. Each and everyone of us enjoyed the bonding session as well as some management thoughts he shared with us e.g. the 4 Ms – Mission, Manpower, etc… We have been engaging you guys in the past 4 years and apparently each time was better than the other. Therefore this year is the best by far. Keep up the good work and we look forward to seeing Sasi and FOCUS team next year …. Cheers!
-Vila, Corporate & HR Manager, At-Sunrice GlobalChef Academy Pte Ltd
Sasi was very good. It was very fun in learning… Really appreciate your team effort…
-Stalin, Senior Executive, Prudential Singapore
A lot of opportunities to interact with colleagues from other teams. Great location. Very impressed with Lead Facilitator, Sasi. Had a great time.
-Daniel Panek, Prudential Singapore
You guys did an awesome job! We were impressed with the dedication, attention to detail and safety and truly appreciate all the hard work and dedication put in to make this programme a success.
Sasi did a great job and was extremely accommodating with all of our requests.
Thanks again and we look forward to working with you again on future programmes.
– Harish Nambiar, Group Account Director, OgilvyOne Worldwide, Singapore
Sasi is very approachable and friendly. In the department, we do not have much time to interact with some colleagues but with this activity, we know them better.
-Tan Boon Kheng, Lab Technologist, National University of Singapore
Lead Facilitator, Sasi as well as Yiliang and photographer, Toto engaged the group very well overall (Giving instructions, explaining things, cheering us on).
-Loh Chin Siew, Manager, Mundipharma Pte Ltd
Kudos to FOCUS's colleagues, Sasi and team. They deserve credit! So much of energy and everyone bonded well. We are very happy and thank you for making the class closer with the activities arranged. Appreciate it!
-Farah, Singapore Management University
Contingency Plans – The fact that FOCUS Adventure put their act and organised very quickly when we realised that the date was mistaken was impressive. Priscilla Foong was level headed to think of backup plans in the nick of time. Facilitator – After several rounds of information gathering and requirements understanding, I felt that Sasi, the Facilitator indeed built and designed the programme to be suited for our group.
-Marie Soon, Senior Manager, American Express Singapore
The Facilitator especially Mr. Sasi had made this a wonderful experience.
-Javier Koo Zhi Hao, Administrator, Ministry of Law Singapore
Thanks to the wonderful team (Sasi and others) for the great programme in Bintan. It came as a shock for most of them, including us (Team Challenge Pyramid) but all of us did enjoy at the end of the day and glad that we had overcome the fear and complete the challenges. We look forward to working together again to bring more wonderful experience to my members!
-Seannie Soon, Human Resources Department, Sharp Electronics (Singapore) Pte Ltd
Sasi was one of the outstanding Facilitator that gave us his support, motivations, courage and clear instruction during the whole programme. Pat on the back SASI! Well done.
-Sharifah Shahida, Admin Assistant, Mitsui Chemical Asia Pacific Ltd
Thanks Sasi, for sending our colleagues all the way to NUH so that they can bid a final farewell to their beloved colleague. The offer of pens for the evaluation shows that you are well-prepared in advance for your clients' needs.
-Joanne Tan, Senior Executive, Watsons Personal Care Store Pte Ltd
A big "Thank You" especially to Sasi for all the support to make our programme a success.
-Jasmine Koh, Senior Office Administrator, Borouge Pte Ltd
Yumi, Joey and Sasi, please allow me to thank you for a WONDERFUL session of the programme! 🙂 GOOD JOB Joey and Sasi together with the other 2 colleagues who were busy taking pictures and videos and putting them together for viewing in a short span of time. We really appreciate the pleasant surprise of mugs for everyone. KUDOS to your team!
-Jesslyn Tan, Customer Relations Manager, Singapore Polytechnic